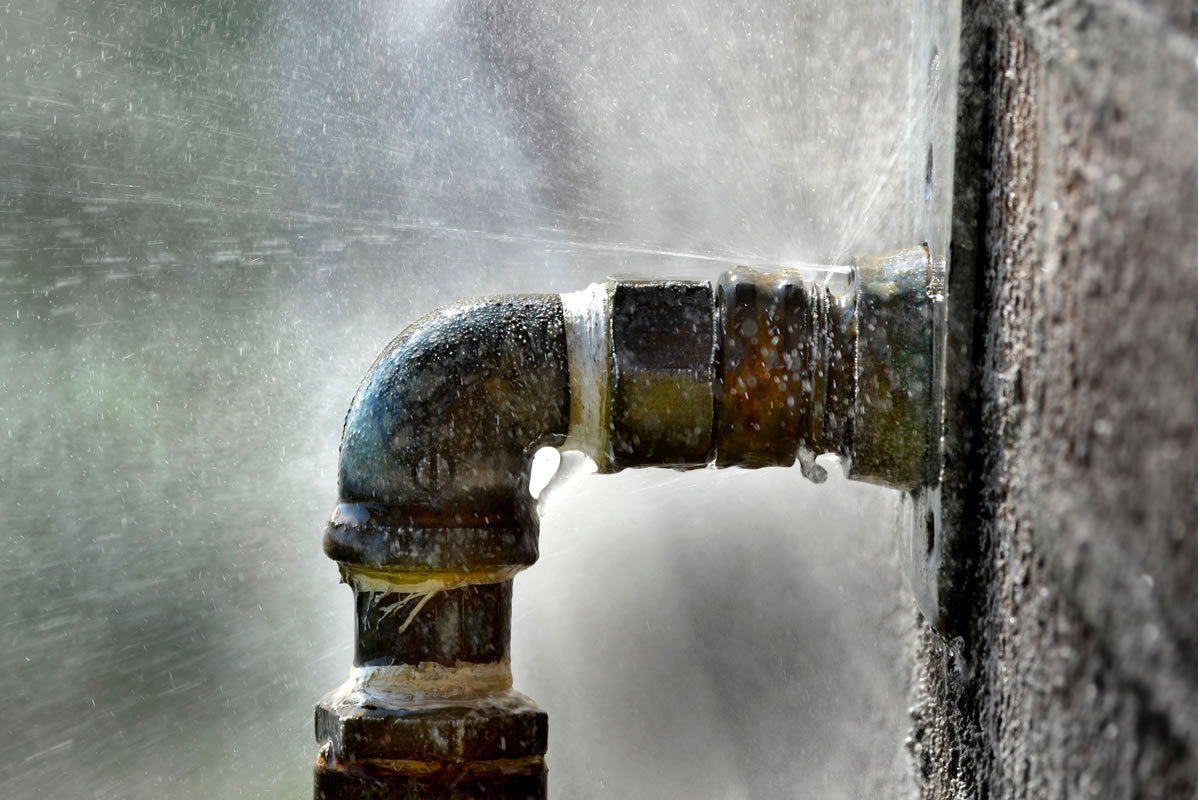 Instantly you can become frazzled when suddenly you have a burst water main. Water is spraying everywhere and wreaking havoc to your property and propelling your panic. With a little knowledge and preparation ahead of time you can save yourself from panic mode, and handle your water main burst with confidence.
Before we discuss the proper action plan for water main breaks, you should know what your number one priority is to call us at HP Mechanical. Calling us promptly will be your first line of defense protecting you from extensive water main damage.
Now that professional help is on the way, you are ready to jump into your action plan to deal with your burst water main emergency. "Shut off water to the house" should be your first thought and plan of action.
First, Find the Main Water Shut Off Valve
First, shut off the main water valve. Umm… what? Say, where is my main water shut off valve anyway? Yeah, that is good information to know ahead of time. Picture yourself in two different scenarios.
You experience a burst water main emergency and now you are scrambling all over the place looking for the dang shut off valve while water is spraying all over the place. You check the basement, crawl spaces, and around the water heater. Is the main water shut off valve even inside the house? Maybe it's under that metal lid thingy close to the street. By now you are frazzled!
You experience a burst water main emergency; you have called the plumber and you have quickly shut off the water to the house because you already know where to find the main water shut off valve. With confidence, you have completed the first two (and most important) steps dealing with a burst water main. Pat yourself on the back – you are a competent homeowner!
Now is a good time to find out where the main water shut off valve is before you experience a water main burst. That one bit of important information will be the difference between properly handling a burst water main with confidence or spinning out of control in agitation.
Drain All the Faucets to Help the Water Main Burst
The next step in water main repair is to drain all faucets. Most water main burst events happen in winter when water freezes and expands inside the pipes. When you remove the extra water from the plumbing system, you relieve extra pressure, especially if the water has a chance to freeze.
Turn on the cold-water faucets and drain the extra water from the pipes. Don't forget the toilets. Think of toilets as cold water shut off valves that also need to be drained, and flush them several times.
Next Turn Off Your Hot Water Heater and Drain the Hot Taps
After tapping the cold-water faucets, turn off the water heater and drain the hot taps.
Allowing warm air to circulate cold or frozen pipes is also very helpful. You could turn up the thermostat, open up cupboard doors that house pipes, or direct a hairdryer on a pipe that is frozen. Now Clean Up the Mess and Document the Water main Damage
Phew, now that the water main repair emergency is contained, your natural inclination will be to fly into clean up mode; but stop for a moment and consider the damage your burst water main may have caused.
For insurance purposes, you will want to document all the water damage to your house as well as your possessions. Take photos of everything! Your documentation will also be a historical record to give a plumber should you have future plumbing problems.
Like knowing where your main water shut off valve is ahead of time makes a world of difference, so remembering to document water main damage will be extremely beneficial.
Now, you can get the mop out and put all your items back in place.
If you can perform these tasks before we arrive, you will be in a position to alleviate the pain associated with a burst main!
About HP Mechanical
For many years, HP Mechanical has proudly provided comfort to thousands of homes and light commercial businesses across the Santa Rosa/Windsor area and throughout Sonoma County. We are an honest, loyal company who takes pride in our work. We take care of our customers as if they were family. Referrals are where 90% of our business comes from, so the relationships we build along the way mean a lot to our small business. The one constant with everything involves working and helping people, by striving to provide the best service available at a reasonable cost. We take personal responsibility to make sure comfort and quality meets accountability & affordability, with exceptional customer service every time!
Sources: USA Today and Forbes