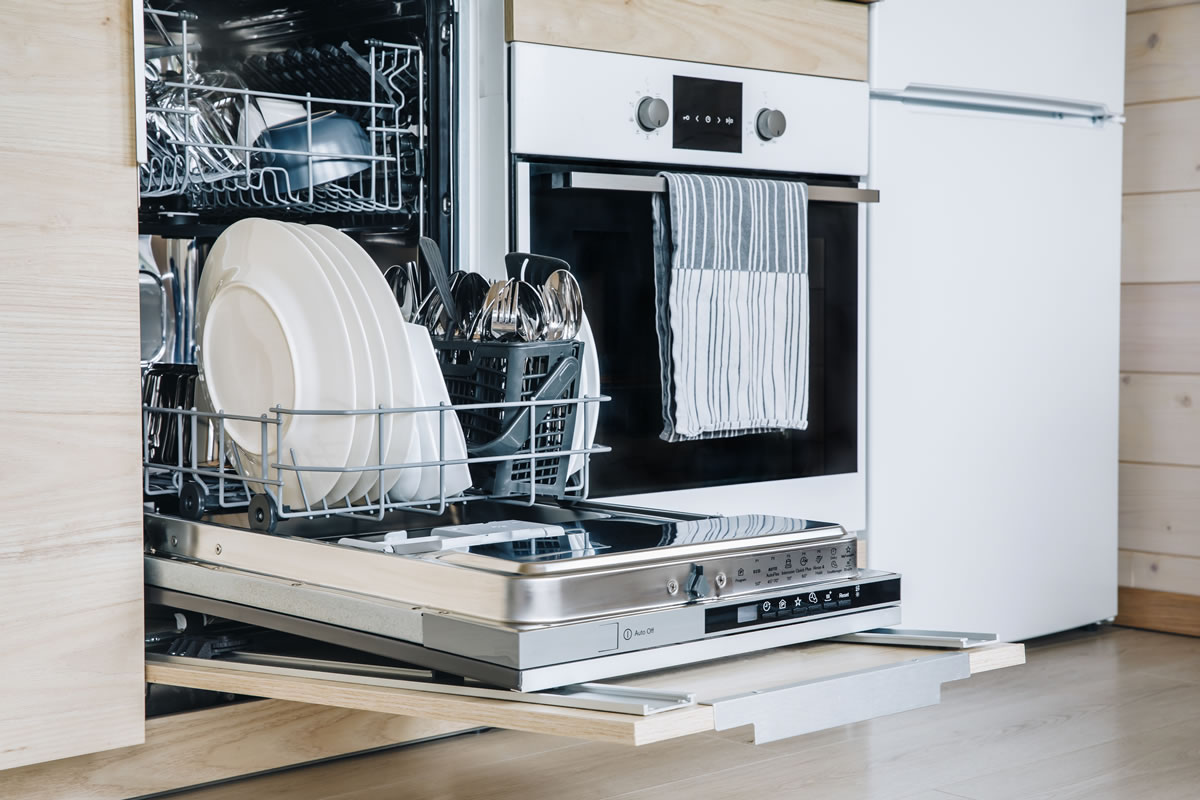 People ask me all the time. "Rudy, my dishwasher is making funny sounds." And then they invariably try to make the sound, but that just confuses the situation more.
I tell my clients from all over the North Bay that when the dishwasher starts having problems, there's no time to waste in getting to the bottom of it. You can always call us at HP Mechanical -- and for some problems, you definitely should -- but there are some small, common dishwasher problems that you can diagnose, if not repair, all on your own.
Identifying and Fixing Leaks
Dishwashers are designed to not spill a drop, but leaks can develop if certain parts malfunction or become damaged. If you have an older dishwasher, some parts may be failing due to age and wear, which can also lead to leaks.
If you notice pooling water or signs of water spray around your dishwasher, it could be coming from one or more of three areas:
Underneath the dishwasher. There are three places a leak can occur under here: the water inlet, the drain and the seal around the pump. Leaks in these places can be caused by loose or failed hose clamps, cracked gaskets or a broken pump.
Around the door. The door is lined with a rubber gasket, much like the one on your refrigerator door. If there is a tear in the gasket, or if it has become cracked and brittle with age, this could be the source of your leak.
At the water source. A hose or pipe carries water from your household plumbing to your dishwasher's water inlet. If this connection is loose or if a gasket has failed, water could be leaking from this area.
To get a good look around, you may need to clear out the area under your kitchen sink and remove the front kick plate of your dishwasher. Use a flashlight to look everywhere for the source of the water. If your dishwasher isn't mounted to your countertop or cabinets, you may be able to scoot the dishwasher away from the wall to get a better look. Be careful not to snag or break any hoses if you do this.
If you're lucky, you may be able to pin the source down to a loose connection -- something you can fix in under a minute. If it's a failed gasket or pump, check your dishwasher manufacturer's website for information on replacement parts and DIY repairs. You may find the instructions for these repairs surprisingly simple, and if it ends up being something you don't want to handle yourself, your local plumber can always step in to make it a quick fix.
When Your Dishwasher Stops Doing Its Job
Having a water leak is troubling enough, but your dishwasher is truly useless when there's no water at all. And as with leaks, there are a few different common ways that this problem can occur:
The door sensor is stuck or broken. All dishwashers have a safety mechanism to prevent the flow of water when the door is not latched. If your latch isn't "clicking" into place when you close the dishwasher, there could be a fallen object or some type of residue obstructing the latch. If the latch is functioning properly, it's possible that the electronic switch that controls the water flow is broken and must be replaced.
The float switch is stuck or broken. The float switch is usually a plastic disc or cone that is attached to the floor of the dishwasher and is able to move up and down a few centimeters. When enough water has filled the dishwasher, the rising float switch is supposed to tell the dishwasher to stop the water flow. But if the switch gets stuck in the "up" position by soap scum or a fallen fork, no water will flow at all. This switch can also break, in which case it will need to be replaced.
There's an issue with the water supply. If you have water in the sink, you know the problem isn't the main supply. The next thing to check is the valve under the sink that diverts water to the dishwasher. If that's open, follow the supply hose to make sure it isn't kinked. You may need to remove the dishwasher's kick plate to see the full length of the hose.
About HP Mechanical
For many years, HP Mechanical has proudly provided comfort to thousands of homes and light commercial businesses across the Santa Rosa/Windsor area and throughout Sonoma County. We are an honest, loyal company who takes pride in our work. We take care of our customers as if they were family. Referrals are where 90% of our business comes from, so the relationships we build along the way mean a lot to our small business. The one constant with everything involves working and helping people, by striving to provide the best service available at a reasonable cost. We take personal responsibility to make sure comfort and quality meets accountability & affordability, with exceptional customer service every time!
Sources: DIY Network and USA Today