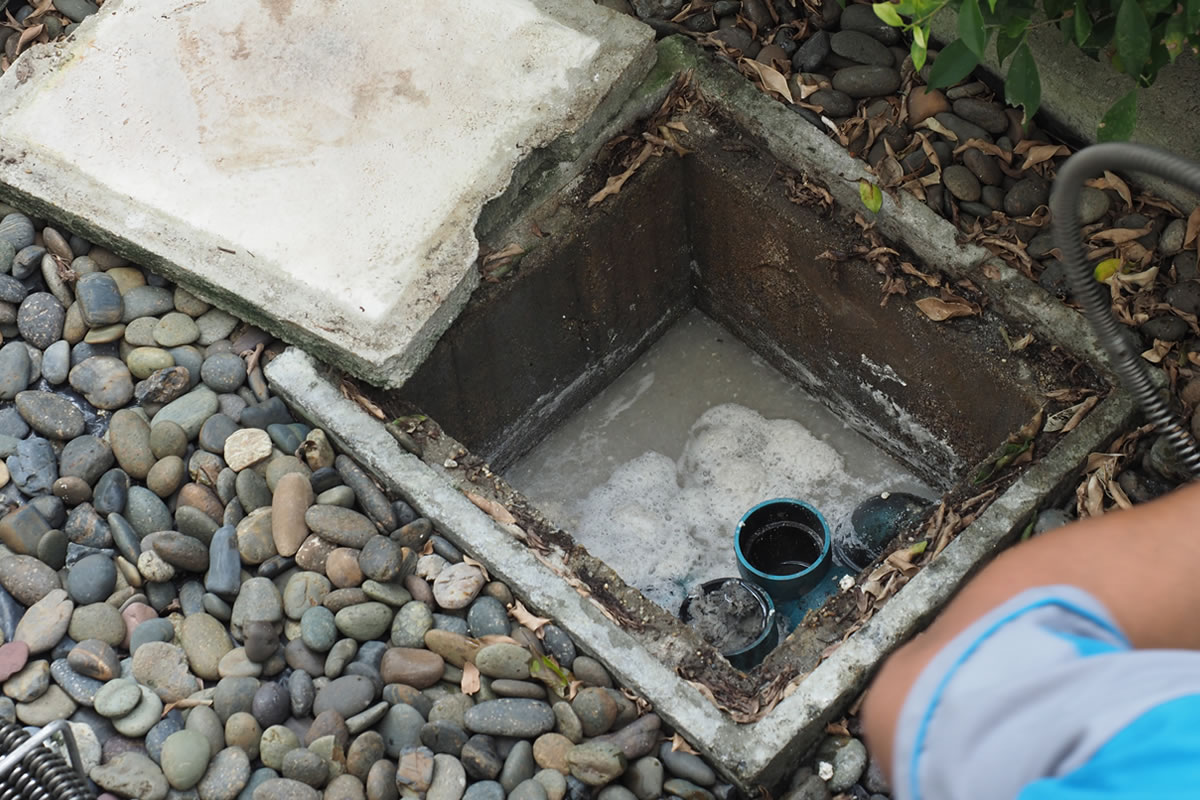 Do you know what a grease trap is and the role that they play in the plumbing industry? Do you have one in your house or commercial building?
Most homes built before the mid-1960′s have grease trap systems, but today you will find them mostly in commercial kitchens hotels and restaurants. Grease traps were commonplace throughout the Bay Area for decades, but they are no longer prevalent, because most northern California counties converted to direct sewer systems starting in the early 1950's.
Grease trap systems normally consist of a steel cover 18″ in diameter and are generally 5′-6′ deep. Inside these brick basins, there is one pipe going in and another one going out. These pipes are at different heights to enable the water to pass through to the city sewer system. One of the problems with a grease trap is that it will stay in the basin until cleaned it out.
So, let's take a serious look at how grease traps operate, because it you have one in your home, you probably need to keep it, for financial reasons. This information is brought to you by all of us at HP Mechanical, a company that knows the ins and outs about great traps.
Grease Traps
A grease trap is essentially a box that's installed in the sewer line of primarily commercial kitchens, but in many older homes with large kitchens grease traps are still working well.
The basic function of a grease trap is to filter out potentially destructive substances that should not enter the sewer main, depending on your system. The most damaging of these materials is FOG (Fats, Oils, and Grease). As wastewater flows through the grease trap, solid waste will go to the bottom while FOG will float up to the surface. This prevents them from making it into the sewer main and clogging it up.
Why Grease Traps Are Necessary for Commercial Kitchens
Any building that houses a commercial kitchen (or other food processing area) should probably have a grease trap and many homes with large kitchens may also have them. These areas process FOG and other cooking by-products in large numbers. The dilemma with this situation is that FOG congeals as it cools, forming a semi-viscous substance that impedes the flow of water through the pipes. This is such a widespread problem that many cities have made it compulsory for commercial kitchens to have grease traps installed and to have them serviced on a regular basis.
If you decide to get your grease trap removed for whatever reason, weigh the costs. To remove the piping to this system isn't cheap. Basically, it requires cutting the piping in the basement that feeds this system and running it into the sewer main. It is doable, but in the end, a grease trap will work just fine if you maintain it and have it cleaned periodically. For any questions about your grease trap, contact us at Ho Mechanical and we will provide you with the answers and solutions you're looking for.
About HP Mechanical
For many years, HP Mechanical has proudly provided comfort to thousands of homes and light commercial businesses across the Santa Rosa/Windsor area and throughout Sonoma County. We are an honest, loyal company who takes pride in our work. We take care of our customers as if they were family. Referrals are where 90% of our business comes from, so the relationships we build along the way mean a lot to our small business. The one constant with everything involves working and helping people, by striving to provide the best service available at a reasonable cost. We take personal responsibility to make sure comfort and quality meets accountability & affordability, with exceptional customer service every time
Sources: Ask.com and Wikipedia