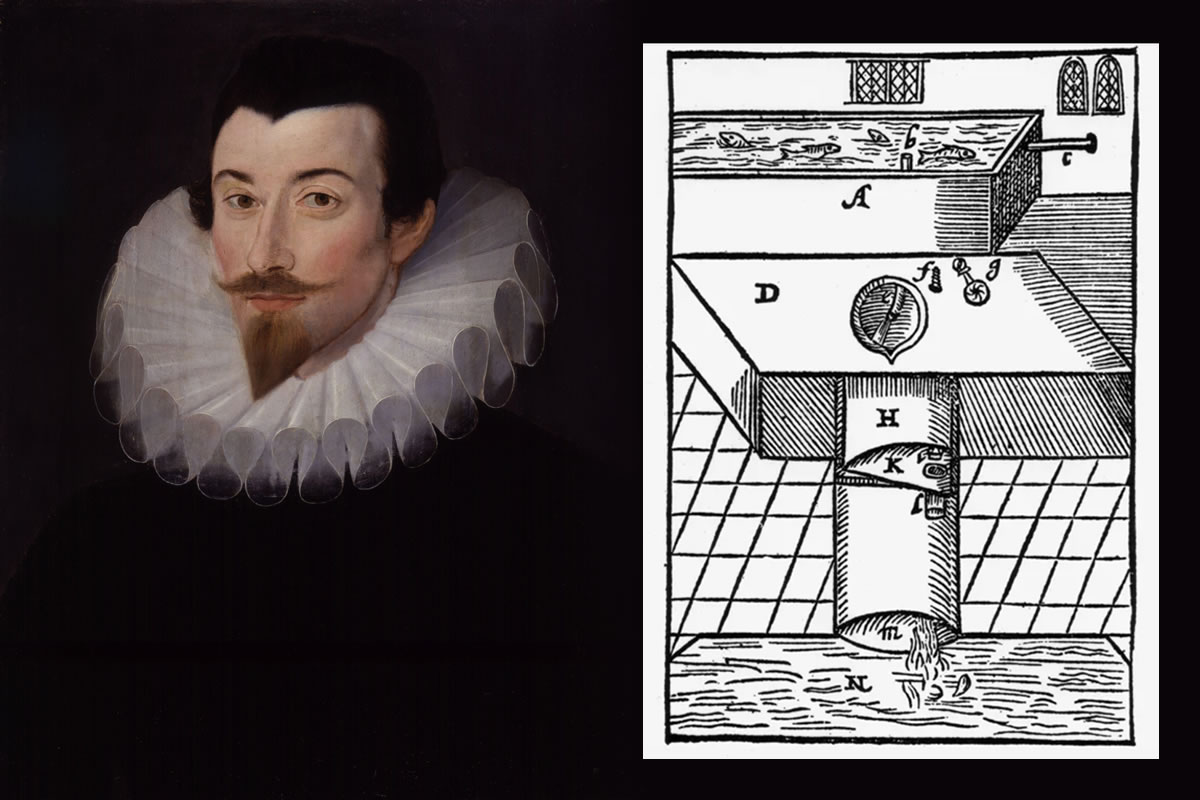 Every time you flush the toilet, you should think fondly about Sir John Harington, the modern-day toilet. There are a wide range of new high-tech toilets out there right now with fancy features like warmed seats and ones that operate by sound. But, in the end, the original idea behind the flushing commode came from the mind of Sir John Harrington.
At HP Mechanical, we have likely worked on just about every toilet out there since opening our doors back in 1975. By continually looking to utilize the latest technology in today's plumbing world, we have been able to stay at the forefront of the industry. Since toilets are part of the plumbing system in every residence or commercial building we work in, we thought this interesting blog might amuse you.
Sir John was born in 1560, in Kelston, Somerset, England. His father was a poet while his mother worked as a gentlewoman of Queen Elizabeth I's Privy chamber. He was baptized by the Queen herself, and she called him her "saucy Godson." He became a poet, and although he wasn't successful, he wrote enough in favor of his Godmother. Later, while in exile, Harington invented the lavatory.
Harrington was educated at Eton and King's College, Cambridge where he studied law and grew up as a prominent member of the Queen's court. He had never practiced law but was rather interested in the royal court where he always captured Elizabeth's attention with his poetry and free-spoken attitude. He married in 1583.
In the meantime, the Queen gave him a task to translate Ariosto's "Orlando Furioso" but his first versions angered the Queen, so she banished him from the court for few years until he provided a good translation. In 1591 he wrote a highly praised translation that is read until today.
He was constantly encouraged by the Queen about his writing until 1596 when he published his work which was a political allegory against the monarchy and subsequently was banished from the court after which he exiled in Bath.
Harington was in exile until 1599 and built himself a house where he devised and installed the first flushing lavatory which he named Ajax. Queen Elizabeth visited him, and he showed her his invention. Apparently, she tried it and ordered one for herself.
The water-closet he invented consisted of a pan with an opening at the bottom, sealed with a leather-faced valve. There were knobs installed on it, lifters and weights that opened the valve and were connected to a cistern from where the water was poured. He described this invention in his work "A New Discourse of a Stale Subject called the Metamorphosis of Ajax".
Even though the Queen was keen on Harington's invention, the folks remained to their chamber-pots. In 1775 Alexander Cummings patented a device similar to Harrington's Ajax.
These were usually emptied from an upstairs window into the street below, and in France, the cry 'gardez-l'eau' gave warning to the people below to take evasive actions. The phrase 'gardez-l'eau' may has been the origin of the English nickname for the lavatory, "the loo".
About HP Mechanical
For many years, HP Mechanical has proudly provided comfort to thousands of home owners and light commercial businesses across the Santa Rosa/Windsor area and throughout Sonoma County. We are an honest, loyal company who takes pride in our work. We take care of our customers as if they were family. Referrals are where 90% of our business comes from, so the relationships we build along the way mean a lot to our small business. The one constant with everything that we do involves working and helping people, by striving to provide the best service available at a reasonable cost.
Sources: YouTube and AOL